Appendix 9: Music for the Planets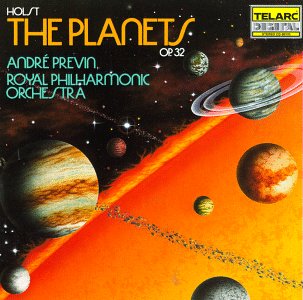 The Planets

Most of the music on The Nine Planets is taken from the recording of The Planets op. 32 by Gustav Holst by the Royal Philharmonic Orchestra conducted by André Previn (Telarc 80133); the Pluto piece is from a different recording (see below). Click to play excerpts from each movement:
Other planetary music:
Haydn: Symphony No. 43 in E flat major ("Mercury"), H. 1/43

Haydn wrote over 100 symphonies most of which, like this one, are not very memorable. Available only in box sets with other obscure works.
By far the best piece of music on this list. This is one of Mozart's best. And that's saying a lot!

Berners: Triumph of Neptune

Hovhaness: Saturn, Op.243

Lully: Le Grand Divertissement Royal de Versailles, devertissement / comedie, LWV 38 Les suivants de Neptune

I know nothing about these three.

Dvorak: Rusalka

One song in this opera is about the Moon.

Mathews: Pluto: The Renewer

Holst completed "The Planets" in 1917, before the discovery of Pluto. Though he lived until 1934, a few years after Pluto's discovery, he never added a final movement. Colin Mathews rectified that omission with this new piece which I have used on the Pluto page. It is available along with another recording of The Planets by The Hallé Orchestra conducted by Mark Elder.
"Asteroid 4179 - Toutatis" by Kaija Saariaho
"Towards Osiris" by Matthias Pintscher
"Ceres" by Mark-Anthony Turnage
"Komarov's Fall" by Brett Dean
These four pieces were commissioned by Simon Rattle to form companion pieces to his new recording of "The Planets" with the Berlin Philharmonic.
---
Home ... Appendices ... Pictures ... Music ... Credits

---
Bill Arnett; last updated: 2006 Oct 10