Globular Cluster NGC 1916 in the Large Magellanic Cloud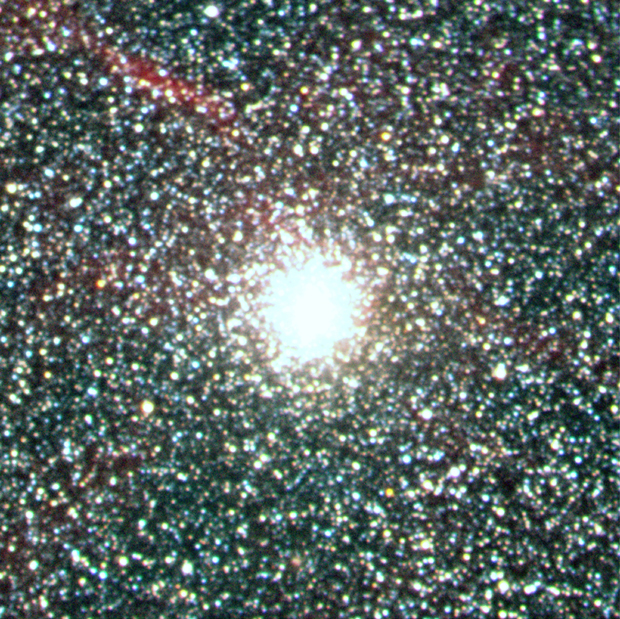 From The European Southern Observatory
This image is centered on the bright, rich and compact cluster (NGC 1916) that can be seen near the bottom center of the full-field picture, clearly showing the richness of the field surrounding it, as well as the wide variety of stellar colours.
This photo is based on exposures made through three optical filtres, including a narrow-band one centred on the H-alpha spectral line from hydrogen (wavelength 656.2 nm in the red part of the spectrum; light of this wavelength is emitted when protons and electrons combine to form hydrogen atoms). The red colour therefore traces the extremely complex distribution of ionized hydrogen within the nebulae. The present reproductions enhance this colour in order to show the fainter structures. Note also the very different colours of individual stars, mostly reflecting their temperature, from the hottest (blue) to the coolest (red).
Based on press release with ESO PR Photo 26f/99
Catalog #:Photo 26f/99
Target Name: Globular Cluster NGC 1916 in the Large Magellanic Cloud

---
Back to Star Cluster photographs index.
---
---
---
© Copyright 2000 Outreach Consortium. All Rights Reserved.

Last Modified On: Thursday, November 9, 2000