The Helix Nebula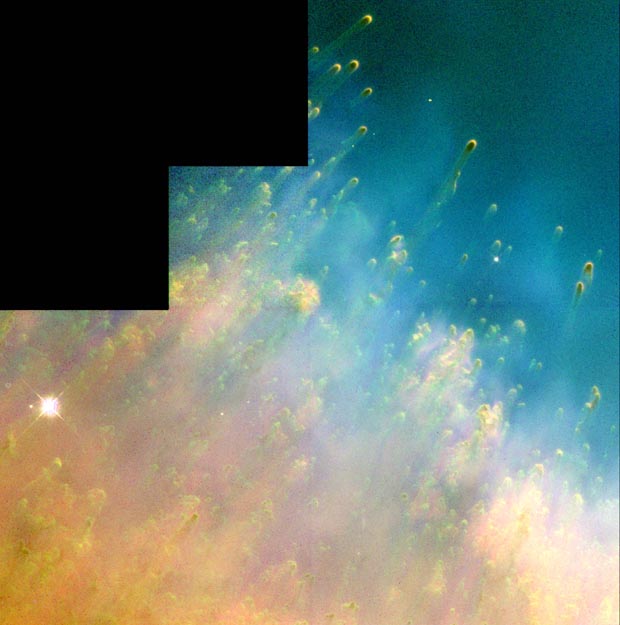 From the Hubble Space Telescope
This colorful image from the Hubble Space Telescope shows the collision of two gases near a dying star. Astronomers have dubbed the tadpole-like objects in the upper right-hand corner "cometary knots" because their glowing heads and gossamer tails resemble comets. Although astronomers have seen gaseous knots through ground-based telescopes, they have never seen so many in a single nebula. The red light depicts nitrogen emission ([N II] 6584A); green, hydrogen (Ha, 6563A); and blue, oxygen (5007A).
Hubble captured thousands of these knots from a doomed star in the Helix nebula, the closest planetary nebula to Earth at 450 light-years away in the constellation Aquarius. Each gaseous head is at least twice the size of our solar system; each tail stretches 100 billion miles, about 1,000 times the Earth's distance to the Sun. The most visible gaseous fragments lie along the inner edge of the star's ring, trillions of miles from the star at its center. The comet-like tails form a radial pattern around the star like the spokes on a wagon wheel. Astronomers have seen the spoke pattern using ground-based telescopes, but Hubble reveals for the first time the sources of these objects.
The gaseous knots may be the results of a collision between gases. The doomed star spews the hot gas from its surface, which collides with the cooler gas that it had ejected 10,000 years before. The crash fragments the smooth cloud surrounding the star into smaller, denser finger-like droplets, like dripping paint. Astronomers expect the gaseous knots, each several billion miles across, to eventually dissipate into the cold blackness of interstellar space.
Image Title: Hubble Captures Collision of Gases Near Dying Star
based on press release for PHOTO NO.: STScI-PRC96-13a
Credit: Robert O'Dell, Kerry P. Handron (Rice University, Houston, Texas) and NASA
---
---
---
© Copyright 2000 Outreach Consortium. All Rights Reserved.

Last Modified On: Tuesday, December 19, 2000