Oblique View Across Mare Imbrium of the Copernicus Crater on the Moon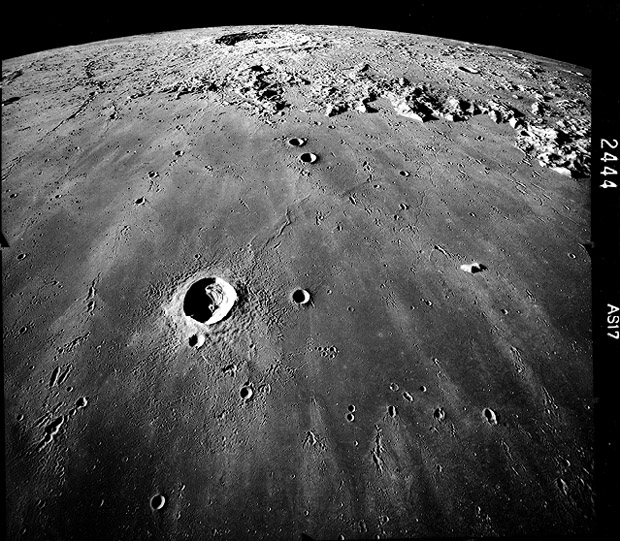 From the National Space Science Data Center Image Gallery
A Southward looking oblique view of Mare Imbrium and the Copernicus crater on the Moon. The Copernicus crater is seen almost edge-on near the horizon at the center. It is 107 km in diameter and is centered at 9.7 N, 20.1 W. In the foreground is Mare Imbrium, peppered with secondary crater chains and elongated craters due to the Copernicus impact. The large crater near the center of the image is the 20 km diameter Pytheas, at 20.5 N, 20.6 W. At the upper edge of the Mare Imbrium are the Montes (mountains) Carpatus. The distance from the lower edge of the frame to the center of Copernicus is about 400 km. This picture was taken by the metric camera on Apollo 17.
Image Title: Oblique View Across Mare Imbrium of the Copernicus Crater on the Moon
Text based on internet materials accompanying Apollo 17 Photograph AS17-2444.
---
Back to Moon photographs index.
---
---
© Copyright 2000 Outreach Consortium. All Rights Reserved.

Last Modified On: Saturday, December 16, 2000