Apollinaris Patera, Mars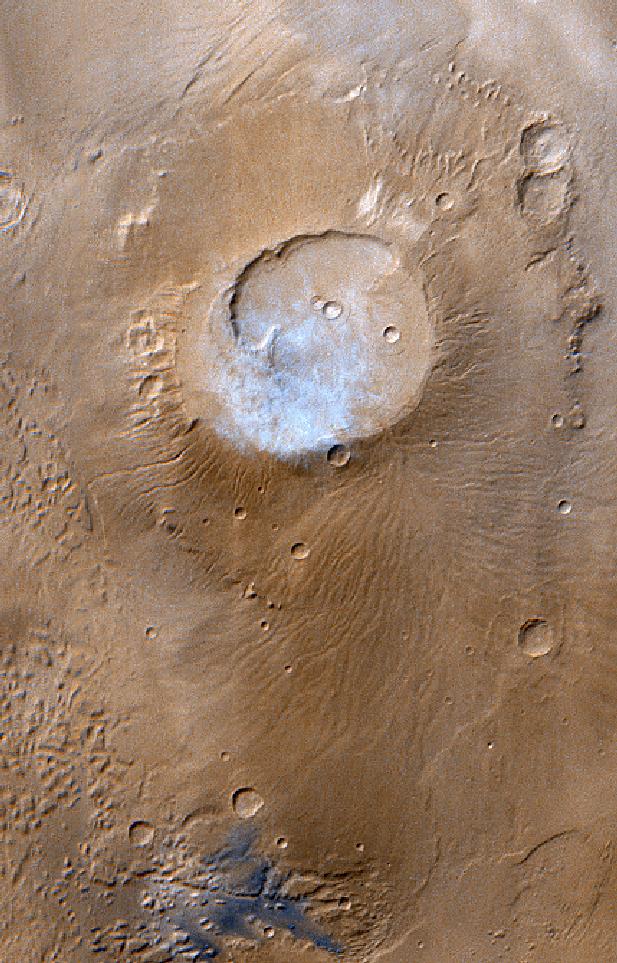 From NASA's Planetary Photojournal
In April 1999 the Mars Global Surveyor Mars Orbiter Camera (MOC) passed over the Apollinaris Patera volcano and captured a patch of bright clouds hanging over its summit in the early martian afternoon. This ancient volcano is located near the equator and is thought to be as much as 5 kilometers (3 miles) high. The caldera--the semi-circular crater at the volcano summit--is about 80 kilometers (50 miles) across. The color in this picture was derived from the MOC red and blue wide angle camera systems and does not represent true color as it would appear to the human eye (that is, if a human were in a position to be orbiting around the red planet). Illumination is from the upper left.
Image Title: Apollinaris Patera, Mars
Catalog #: PIA02006
Target Name: Mars
Spacecraft: Mars Global Surveyor Orbiter
---
Back to Mars photographs index.
---
---
© Copyright 2000 Outreach Consortium. All Rights Reserved.

Last Modified On: Monday, December 18, 2000