High-Resolution MOC Image of Phobos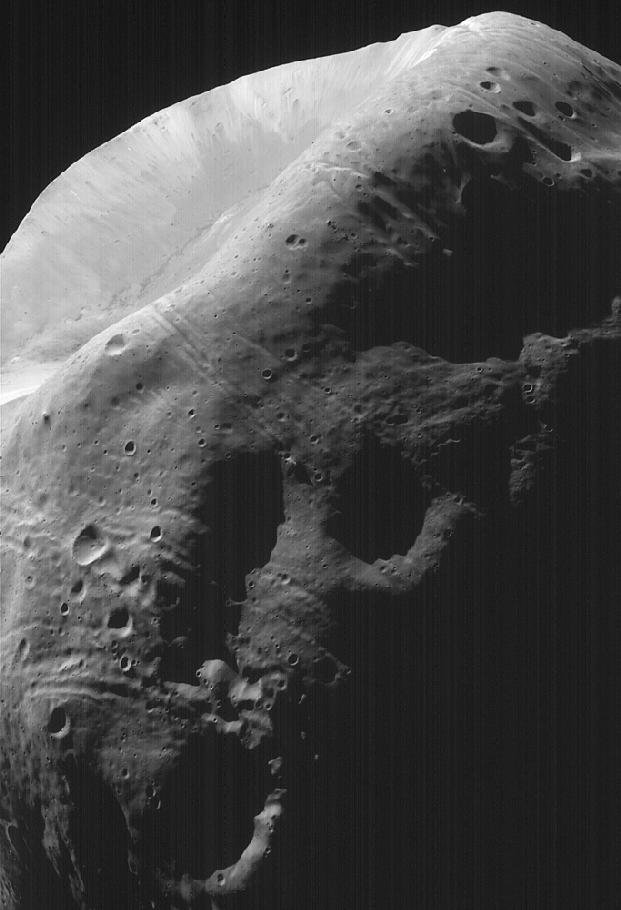 From NASA's Planetary Photojournal
This image of Phobos, the inner and larger of the two moons of Mars, was taken by the Mars Global Surveyor on August 19, 1998. It shows a close-up of the largest crater on Phobos, Stickney, 10 kilometers (6 miles) in diameter. Individual boulders are visible on the near rim of the crater, and are presumed to be ejecta blocks from the impact that formed Stickney. Some of these boulders are more than 50 meters (160 feet) across. Also crossing at and near the rim of Stickney are shallow, elongated depressions called grooves. This crater is nearly half the size of Phobos and these grooves may be fractures caused by its formation. This image is one of the highest resolution images (4 meters or 13 feet per picture element or pixel) ever obtained of the Martian satellite.
Image Title: High-Resolution MOC Image of Phobos
Catalog #: PIA01333
Target Name: Mars
Spacecraft: Mars Global Surveyor Orbiter
---
Back to Mars photographs index.
---
---
© Copyright 2000 Outreach Consortium. All Rights Reserved.

Last Modified On: Monday, December 18, 2000