ASTER Views Mt. Vesuvius, Italy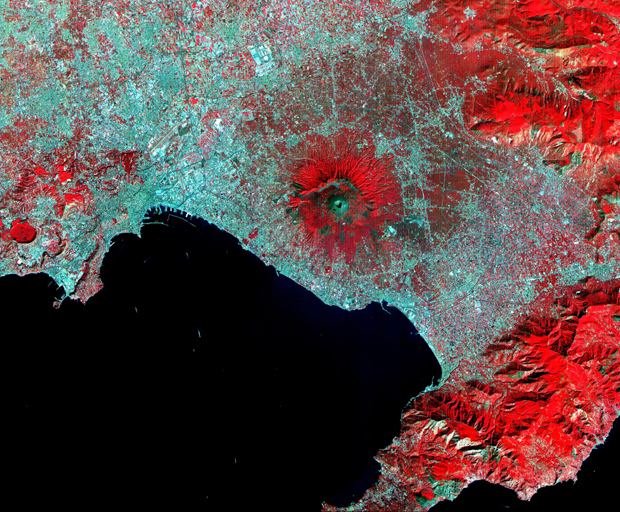 From ASTER Images
Vesuvius overlooks the city of Naples and the Bay of Naples in central Italy. In 79 AD, Vesuvius erupted cataclysmically, burying all of the surrounding cites with up to 30 m of ash. The towns of Pompeii and Herculanaeum were rediscovered in the 18th century, and excavated in the 20th century. They provide a snapshot of Roman life from 2000 years ago: perfectly preserved are wooden objects, food items, and the casts of hundreds of victims. Vesuvius is intensively monitored for potential signs of unrest that could signal the beginning of another eruption.
The Advanced Spaceborne Thermal Emission and Reflection Radiometer (ASTER) is one of five Earth-observing instruments launched December 18, 1999, on NASA's Terra satellite. The instrument was built by Japan's Ministry of International Trade and Industry. The primary goal of the ASTER mission is to obtain high-resolution image data in 14 channels over the entire land surface, as well as black and white stereo images. With revisit time of between 4 and 16 days, ASTER will provide the capability for repeat coverage of changing areas on Earth's surface.
Image Title: ASTER Views Mt. Vesuvius, Italy
Target Name: Earth
Spacecraft: ASTER
Credit: NASA/GSFC/MITI/ERSDAC/JAROS and U.S./Japan ASTER Science Team
---
Back to Earth photographs index.
---
---
© Copyright 2000 Outreach Consortium. All Rights Reserved.

Last Modified On: Monday, Friday, December 15, 2000