ASTER Mt. Saint Helens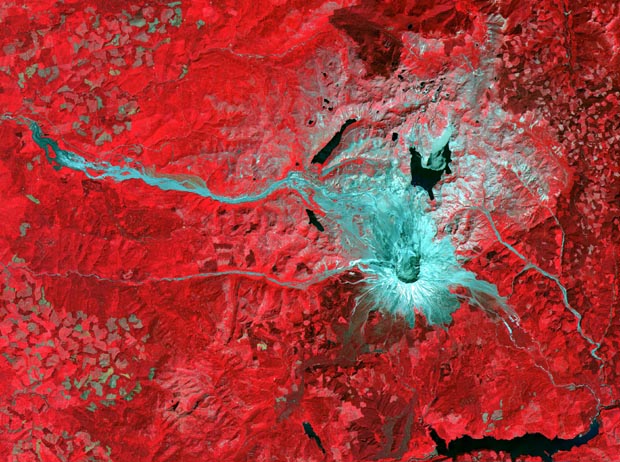 From ASTER Images
This ASTER image of the Mt. St. Helens volcano in Washington was acquired on August 8, 2000 and covers an area of 37 by 51 km. Mount Saint Helens, a volcano in the Cascade Range of southwestern Washington that had been dormant since 1857, began to show signs of renewed activity in early 1980. On 18 May 1980, it erupted with such violence that the top of the mountain was blown off, spewing a cloud of ash and gases that rose to an altitude of 19 kilometers. The blast killed about 60 people and destroyed all life in an area of some 180 square kilometers (some 70 square miles), with a much larger area was covered with ash and debris. It continues to spit forth ash and steam intermittently. As a result of the eruption, the mountain's elevation decreased from 2,950 meters to 2,549 meters.
The Advanced Spaceborne Thermal Emission and Reflection Radiometer (ASTER) is one of five Earth-observing instruments launched December 18, 1999, on NASA's Terra satellite. The instrument was built by Japan's Ministry of International Trade and Industry. The primary goal of the ASTER mission is to obtain high-resolution image data in 14 channels over the entire land surface, as well as black and white stereo images. With revisit time of between 4 and 16 days, ASTER will provide the capability for repeat coverage of changing areas on Earth's surface.
Image Title: ASTER Mt. Saint Helens
Target Name: Earth
Spacecraft: ASTER
Credit: NASA/GSFC/MITI/ERSDAC/JAROS and U.S./Japan ASTER Science Team
---
Back to Earth photographs index.
---
---
© Copyright 2000 Outreach Consortium. All Rights Reserved.

Last Modified On: Saturday, December 16, 2000