ASTER Views Santorini, Greece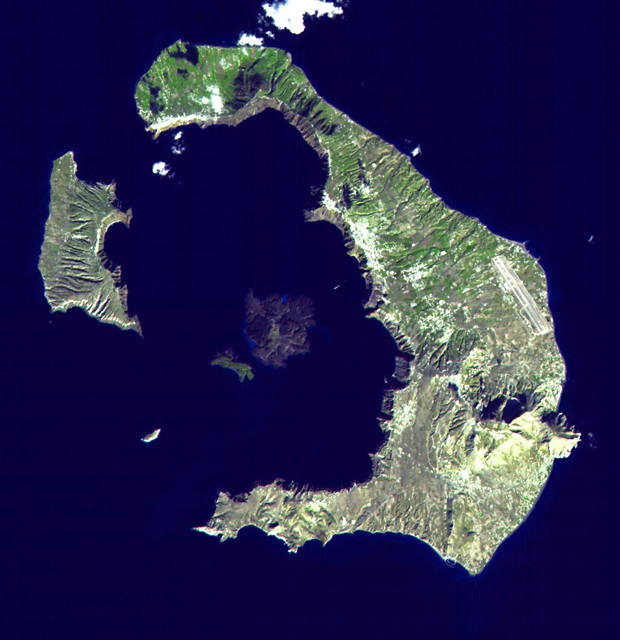 From ASTER Images
his ASTER image of Santorini covers an area of 18 by 18 km. The eruption of Santorini in 1650 B.C. was one of the largest in the last 10,000 years. About 30 cubic kilometers of magma was erupted, forming a plinian column 36 km high. The removal of such a large volume of magma caused the volcano to collapse, producing a caldera. Ash fell over a large area of the eastern Mediterranean. The eruption probably caused the end of the Minoan civilization on the island of Crete. The largest island is Thera, and the smaller is Therasia. The Kameni Islands (dark in the image center) formed after the caldera., with the most recent eruptions occurring in 1950
The Advanced Spaceborne Thermal Emission and Reflection Radiometer (ASTER) is one of five Earth-observing instruments launched December 18, 1999, on NASA's Terra satellite. The instrument was built by Japan's Ministry of International Trade and Industry. The primary goal of the ASTER mission is to obtain high-resolution image data in 14 channels over the entire land surface, as well as black and white stereo images. With revisit time of between 4 and 16 days, ASTER will provide the capability for repeat coverage of changing areas on Earth's surface.
Image Title: ASTER Views Santorini, Greece
Target Name: Earth
Spacecraft: ASTER
Credit: NASA/GSFC/MITI/ERSDAC/JAROS and U.S./Japan ASTER Science Team
---
Back to Earth photographs index.
---
---
© Copyright 2000 Outreach Consortium. All Rights Reserved.

Last Modified On: Monday, Friday, February 23, 2001