Perspective View, Garlock Fault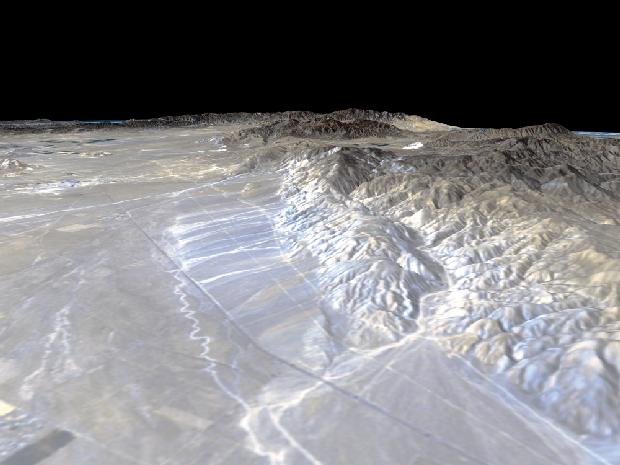 From NASA's Planetary Photojournal
California's Garlock Fault, marking the northwestern boundary of the Mojave Desert, lies at the foot of the mountains, running from the lower right to the top center of this image, which was created with data from NASA's Shuttle Radar Topography Mission (SRTM), flown in February 2000. These mountains are the southern end of the Sierra Nevada and the prominent canyon emerging at the lower right is Lone Tree Canyon. In the distance, the San Gabriel Mountains cut across from the left side of the image. At their base lies the San Andreas Fault which meets the Garlock Fault near the left edge at Tejon Pass. The dark linear feature running from lower right to upper left is State Highway 14 leading from the town of Mojave in the distance to Inyokern and the Owens Valley in the north. The lighter parallel lines are dirt roads related to power lines and the Los Angeles Aqueduct which run along the base of the mountains.
This type of display adds the important dimension of elevation to the study of land use and environmental processes as observed in satellite images. The perspective view was created by draping a Landsat satellite image over an SRTM elevation model. Topography is exaggerated 1.5 times vertically. The Landsat image was provided by the United States Geological Survey's Earth Resources Observations Systems (EROS) Data Center, Sioux Falls, South Dakota. Elevation data used in this image was acquired by the Shuttle Radar Topography Mission (SRTM) aboard the Space Shuttle Endeavour, launched on February 11,2000. SRTM used the same radar instrument that comprised the Spaceborne Imaging RadarC/Xband Synthetic Aperture Radar (SIR-C/X-SAR) that flew twice on the Space Shuttle Endeavour in 1994.
Image Title: Perspective View, Garlock Fault
Catalog #: PIA02747
Target Name: Shuttle
Spacecraft: Shuttle Radar Topography Mission/C Band Interferometric Radar
---
Back to Earth photographs index.
---
---
© Copyright 2000 Outreach Consortium. All Rights Reserved.

Last Modified On: Tuesday, December 19, 2000