ASTER Views the Andes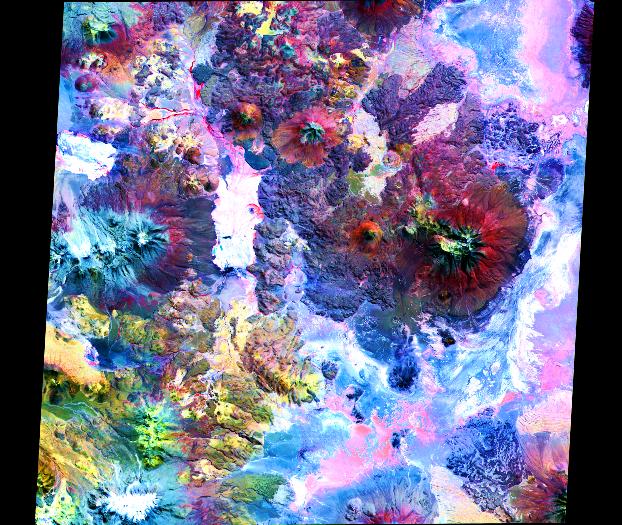 From NASA's Planetary Photojournal
In this image of the Andes along the Chile-Bolivia border, the visible and infrared data have been computer enhanced to exaggerate the color differences of the different materials. The scene is dominated by the Pampa Luxsar lava complex, occupying the upper right two-thirds of the scene. Lava flows are distributed around remnants of large dissected cones, the largest of which is Cerro Luxsar. On the middle left edge of the image are the Olca and Paruma stratovolcanoes, which appear in blue due to a lack of vegetation (colored red in this composite). This image covers an area 60 kilometers (37 miles) wide and 60 kilometers (37 miles) long in three bands of the reflected visible and infrared wavelength region.
The Advanced Spaceborne Thermal Emission and Reflection Radiometer (ASTER) is one of five Earth-observing instruments launched December 18, 1999, on NASA's Terra satellite. The instrument was built by Japan's Ministry of International Trade and Industry. The primary goal of the ASTER mission is to obtain high-resolution image data in 14 channels over the entire land surface, as well as black and white stereo images. With revisit time of between 4 and 16 days, ASTER will provide the capability for repeat coverage of changing areas on Earth's surface.
Image Title: ASTER Views the Andes
Catalog #: PIA02654
Target Name: Earth
Spacecraft: ASTER
---
Back to Earth photographs index.
---
---
© Copyright 2000 Outreach Consortium. All Rights Reserved.

Last Modified On: Tuesday, December 19, 2000