ASTER Views Patagonia, Chile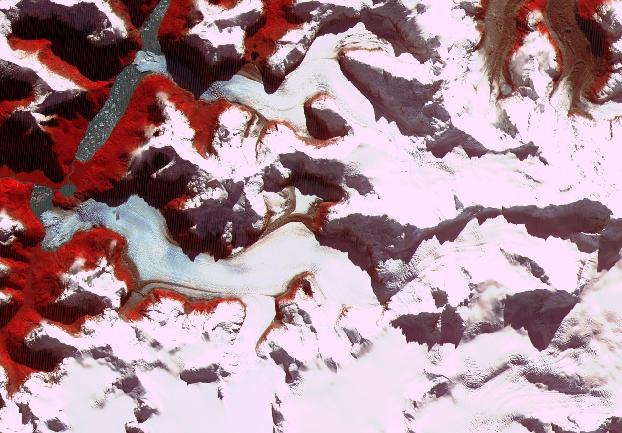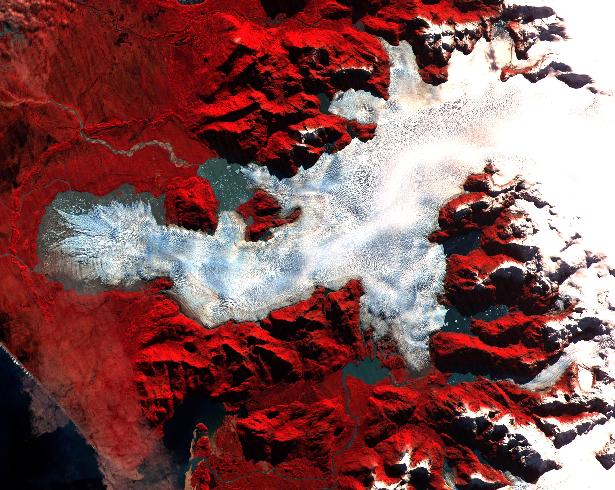 From ASTER Images
These 2 ASTER images were acquired on May 2, 2000 over the North Patagonia Ice Sheet near latitude 47 degrees south, longitude 73 degrees west. The upper image covers an area of 30 x 20 km; the right image covers 36 x 30 km. The false color composite displays vegetation in red. In this image a number of glacial features: moraines, ice falls, crevasses, source snow field, toes, and a dark debris covered glacier. The lower image dramatically shows a single large glacier, covered with crevasses. A semi-circular terminal moraine indicates that the glacier was once more extensive than at present.
The Advanced Spaceborne Thermal Emission and Reflection Radiometer (ASTER) is one of five Earth-observing instruments launched December 18, 1999, on NASA's Terra satellite. The instrument was built by Japan's Ministry of International Trade and Industry. The primary goal of the ASTER mission is to obtain high-resolution image data in 14 channels over the entire land surface, as well as black and white stereo images. With revisit time of between 4 and 16 days, ASTER will provide the capability for repeat coverage of changing areas on Earth's surface.
Image Title: ASTER Views Patagonia, Chile
Target Name: Earth
Spacecraft: ASTER
Credit: NASA/GSFC/MITI/ERSDAC/JAROS and U.S./Japan ASTER Science Team
---
Back to Earth photographs index.
---
---
© Copyright 2000 Outreach Consortium. All Rights Reserved.

Last Modified On: Monday, February 26, 2001