ASTER Views Saudia Arabian Dunes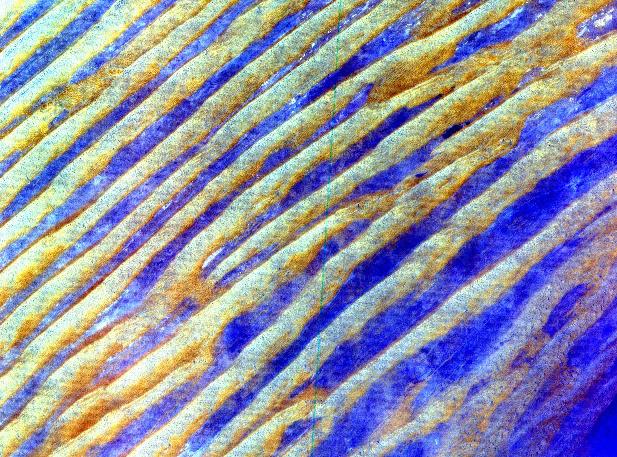 From ASTER Images
This image covers an area of 37 by 28 km, a great sea of linear dines in part of the Rub' al Khali, or the Empty Quarter in Saudi Arabia. The dunes are yellow due to the presence of iron oxide minerals; the inter-dune area is made up of clays and silt, and appears blue due to its high reflectance in band 1. The Rub' al Khali is the world's largest continuous sand desert. It covers about 650,000 square kilometers (250,966 square miles) and lies mainly in southern Saudi Arabia, though it does extend into the United Arab Emirates, Oman, and Yemen. One of the world's driest areas, it is uninhabited except for the Bedouin nomads who cross it.
The Advanced Spaceborne Thermal Emission and Reflection Radiometer (ASTER) is one of five Earth-observing instruments launched December 18, 1999, on NASA's Terra satellite. The instrument was built by Japan's Ministry of International Trade and Industry. The primary goal of the ASTER mission is to obtain high-resolution image data in 14 channels over the entire land surface, as well as black and white stereo images. With revisit time of between 4 and 16 days, ASTER will provide the capability for repeat coverage of changing areas on Earth's surface.
Image Title: ASTER Views Saudi Arabian Dunes
Target Name: Earth
Spacecraft: ASTER
Credit: NASA/GSFC/MITI/ERSDAC/JAROS and U.S./Japan ASTER Science Team
---
Back to Earth photographs index.
---
---
© Copyright 2000 Outreach Consortium. All Rights Reserved.

Last Modified On: Monday, Friday, February 23, 2001