KFRD
focal plane instrument of
SODART telescope
---
KFRD was designed by Moscow Space Research Institute of Russian Academy of Science (IKI RAN) and Design Bureau OKB "Aalam" (Bishkek,Kirgyzstan). The detector of KFRD is a Multiware Proportional Counter (MWPC). The experience which was got during development and exploitation of ART-P X-Ray telescope on board GRANAT satellite was used in development of KFRD.
KFRD is being developed to be main focal plane imaging instrument of SODART Mirror X-ray telescope on board of the international space observatory SPECTRUM-X-GAMMA.
The energy range of detector is 2-25 keV, energy resolution at 6 keV is 18%, position resolution is 0.5 mm.

The sensitive volume of the KFRD detector is pictured above.

The effective area and detector parameters are given below.

---
MM plus KFRD Effective Areas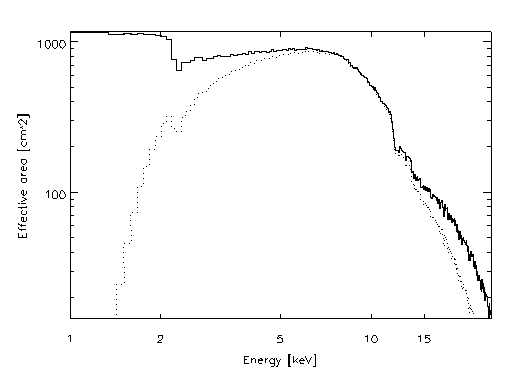 Click here to retrieve a postscript plot (external viewer required).
---
KFRD Parameters
| | |
| --- | --- |
| Energy range | 2-25 keV |
| Energy resolution at 6 keV | 18% |
| Spatial resolution(FWHM) | 0.5-0.6 mm |
| Time Resolution | 1/4096 s |
| Sensitive area | 225 cm^2 |
| Gas mixture | 85% xenon, 10% argon,5% CO2 |
| Gas pressure | 1.2 bar |
| Dead time | 25 Ás |
| Charge particle rejection level | >96% |
| Life time | > 3 years |
---
This page is designed by Dmitry Rivkyn
Last Updated March. 10, 1998